On December 15, Gmail .com and Gsuite suffered a global outage. The issue for email platforms (ESPs) and list owners, was that hard bounces were returned, indicating the email account did not exist.
This may have resulted in Gmail and Gsuite subscribers who may have been improperly seen as a hard bounce and or unsubscribed.
Google's official support response is here…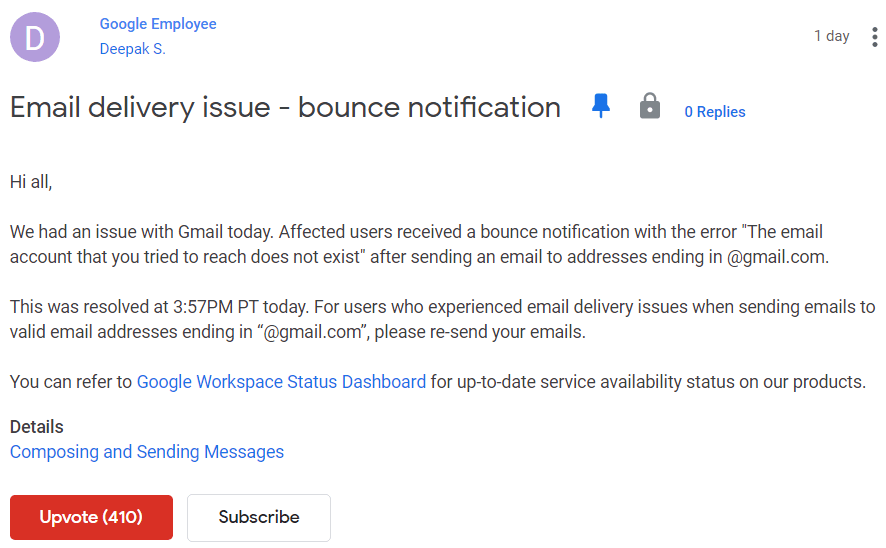 Google documented the outage, which indicates that it occurred between 4:29 pm and 6:51 pm US Eastern time (between 9:29 pm and 11:51 pm UTC).
However some reliable sources have told me that the outage began much earlier in their systems.
Don't Worry! Postmasters Have This Well In Hand…
I spoke directly to many teams and Postmasters, all assuring me they have this well in hand and are reversing hard bounces or already have.
Below are the official responses I have been able to collect so far from my contacts at major ESPs.
SendLane: Jimmy Kim of SendLane asked me to post his personal official response:
"When we noticed the elevated hard bounces, we quickly investigated the issue to learn millions of emails were bouncing due to an outage and put our team in place to be able to reverse it as quickly as we could. Within the same day, hours later, we were able to restore all subscriptions for our users."
Infusionsoft: Postmasters at Infusionsoft assured me that all hard bounces had been reversed by the end of late Tuesday night. Here is the official response…
Ontraport: In a Facebook Group post, Landon Ray, CEO at Ontraport detailed how his Postmasters handled the resulting Gmail outage hard bounces.
AWeber: After a support chat inquiry about my own AWeber account… Support immediately updated me by email-
"I wanted to reach out to inform you that the reported issue with Gmail inadvertently bouncing your subscribers was resolved. The issue occurred on 12/14/2020 between 5:00pm-7:00pm EST and on 12/15/2020 between 4:00pm-6:00pm EST.
Since Gmail corrected the issue with incorrectly providing bounces for subscribers that should not have bounced, AWeber has already performed the necessary steps to resubscribe any of your Gmail subscribers who were affected by this; no action is necessary on your end."
SendGrid: SendGrid's own status page posts: "We have received confirmation from our third party that this issue has been resolved. Users can now reattempt mail sends to domains with Google mx records. Please note some users may continue to see impacted mails listed as suppressed. Our engineers will be continuing to focus efforts on correcting this as soon as possible."
Klaviyo: Klaviyo's status page posts: "We have begun the process of removing suppressions on all profiles impacted by these hard bounces. We expect this process to conclude in the next 24 hours."
Sparkpost: On the blog: "Because Google has stated that the 550 error code was a mistake, we have successfully removed these records from our customers' suppression lists…"
This is not to say other platforms do not have official responses, these are simply the first ones I have been able to track down in the last 24 hours.
As I find new ESP news, I will certainly add it here…
---
Want to find out where your list stands on deliverability? Try my free email deliverability calculator!