Question: What's the difference between Aweber and Active Campaign for email deliverability?
"There is No difference" was my response in a nutshell from a Facebook Group thread. Below is my comment in its entirety.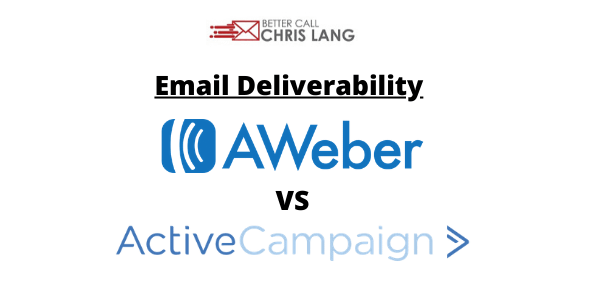 This is a left over farce from almost a decade ago, that one ESP has better delivery than another. Every ESP has 1000s to multiple 1000s of IP addresses they send email out via.
It's up to you to EARN a place on the best IPs. AWeber and ActiveCampaign both have Great IPs, Good IPs and Bad IPs. So does every self respecting ESP. If you have poor delivery at your ESP then you did something to deserve it there.
DKIM, SPF and OH wait, now the latest magic bullet, DMARC, are not going to get you better delivery, just because you added them to your Domain. They are just tools, the magic bullet days are long gone.
Your ESP should be selected by features, great support among them- Not the fallacy that delivery is better somewhere else.
"Mom and Pop shops… and shared IPs?…" on ESPs cause poor delivery on platforms with shared IPs was one contributor's response.
What? You think the 1000s of IPs AWeber has, or the many 1000s at Mailchimp, are all one range that everyone else is on? Then the postmasters just throw up their hands and say: "Oh well, our deliverability sucks…"
Again a misconception from long ago. No ESP in these days of Gmail dominance just sends all the mail out, over ALL the IPs as one range. Then lets the cards fall where they may.
Just like Gmail uses Artificial Intelligence and Machine Learning to determine the placement of your email when it arrives at the Primary tab, Promotions tab and at times Spam-
ESPs use Artificial Intelligence now to make the decision what email goes out where and on what IP addresses and from who, today. It is up to you NOT to get your email sent out on Poor to Bad IPs.
—
Book a call with the web's #1 Email Deliverability Consultant today and rescue lost revenue from promotions and spam!